Effective Inpatient Treatment for Anxiety Disorders
Are you struggling with generalized anxiety disorder or any other type of anxiety? If you are having a hard time participating in your day-to-day life, then it may be time to consider if a more robust treatment program is the right fit for you. An anxiety treatment center like the one found at Emerald Isle Health & Recovery might be just what you need to kickstart your healing and start participating more fully in your life.
If you have been thinking about whether an inpatient treatment program is right for you, here is what you need to know. Keep reading to find out what makes effective anxiety treatment work, and how Emerald Isle can help!
Is an Inpatient Treatment Program Right for You?
Whether you have obsessive-compulsive disorder, social anxiety, post-traumatic stress disorder, or related disorders, you might find that outpatient therapy simply is not cutting it for you. You could be struggling with physical symptoms which can be uncomfortable as well as debilitating. Even the emotional and mental toll that anxiety can take is significant.
If this describes you, then it might be time to pursue an inpatient program.
Keep in mind that there is no one-size-fits-all solution for those who are struggling with their overall mental health. One person may require inpatient treatment while another may do well using outpatient cognitive behavioral therapies. Anxiety treatment is unique to the person and should be tailored to your individual needs.
Here are a few signs that inpatient might be the next right thing for your progress.
Confidential Anxiety Assessment
Engaging in Self-Harm Requires Intense Treatment
One of the first and most concerning criteria for inpatient treatment is engaging in self-harm. This can look different depending on the person, but many people harm themselves in order to cope with the overwhelming feeling of anxiety. Some people may physically harm their bodies through actions like cutting while others will turn to substance abuse.
No matter what self-harm looks like for you, this is an important criterion that often leads our team of professionals to recommend inpatient treatment.
By remaining hospitalized for your treatment, you can rest assured that you will remain safe and away from the various methods of self-harm that you may be engaging in. You and your family can rest easy knowing that you are safe and getting the help you need. In the end, we will help you to find better coping skills through dialectical behavioral therapy, commitment therapy, and more.
This also applies to anyone who is struggling with suicidal ideation as a result of their panic attacks or anxiety disorders. If you think that you might harm yourself or have tried to, it is time to turn to more intense inpatient treatment.
Outpatient Therapies Have Failed You
Sometimes, you might be able to get away with outpatient therapies for your anxiety and related disorders. At other times, you might find that meeting with therapists once a week simply is not enough for you. Emerald Isle Health & Recovery offers more intense levels of treatment that you might find more beneficial.
First, we offer a partial hospitalization program. This allows you to attend therapy sessions and group therapy sessions during the day. You will spend your daytime hours at our state-of-the-art facility but return home in the evenings. If you need a little more structure to your day and want clinical help, partial hospitalization may be the right fit.
We offer effective treatments for generalized anxiety disorder, borderline personality disorder, and related disorders this way.
On the other hand, you might need to ensure your safety beyond a daily or weekly check-in. Anxiety treatment can be highly effective in an inpatient setting because you are immersed in clinical care around the clock. You never have to worry about your safety. Plus, someone is always available to help you process feelings when you are struggling.
If you have already tried cognitive behavioral therapy CBT with an outpatient provider to no avail, allow Emerald Isle to assess you for a more rigorous treatment plan.
Inability to Function in Day-to-Day Life
How are you faring when it comes to activities of daily living? Some people who struggle with anxiety or obsessive-compulsive disorders may have a challenging time with their day-to-day responsibilities. You might get so caught up in your rituals, worry, or overall stress that you forget to engage in routines like eating, showering, and getting ready for the day.
When loved ones start to point out that you are falling short in these daily life tasks, it might be time to consider whether an intervention is necessary. Inpatient treatment can help you to kickstart these habits again.
Our team of mental health professionals will help you to make a solid routine and plan for your daily life. While you are in our care, we will help you to stick to it so that it becomes second nature for you once again. This ensures that the behaviors will stick when you are discharged and return home once more.
24 Hour Mental Health Rehab – Call Now!
Observation Required for Medication Changes and Intense Therapy Sessions
One of the most important aspects of anxiety treatment is medication management. With the plethora of pharmaceuticals available today, you will find many options available to you. At Emerald Isle, we will prescribe which ones we feel are the best fit for your symptoms and anxiety disorders.
However, it may be beneficial for you to receive medication therapy while under the watchful eye of our staff. This helps us to ensure that you receive the proper dosage and that you are responding favorably to treatment. If you are undergoing a tricky medication change, it is best to stick with inpatient care while you level out.
Intensive forms of therapy may also warrant some supervision. Of particular interest when it comes to anxiety disorders, you might have intense exposure therapy or dive deep into what caused your PTSD. All of these types of intense therapies can be upsetting at first.
We prefer to monitor your response to therapies so that we can ensure you are safe and stable before returning home. Emerald Isle wants to make sure that you have the tools you need to cope with these therapies, and that is often best done in an inpatient setting.
Underlying Medical Condition Can Complicate Therapy
Last but not least, you may need to consider an inpatient treatment program if you have an underlying medical condition. This can make your anxiety treatment a bit harder to cope with, as it may impact your ability to receive medication or therapy.
When you have something more complex to deal with along with an anxiety disorder, it is best to err on the side of caution. Our doctors will be well-versed in your condition and will know what to look out for to ensure your safety, both physically and mentally.
Inpatient Treatment Goals: Stepping Down to Lower Level of Care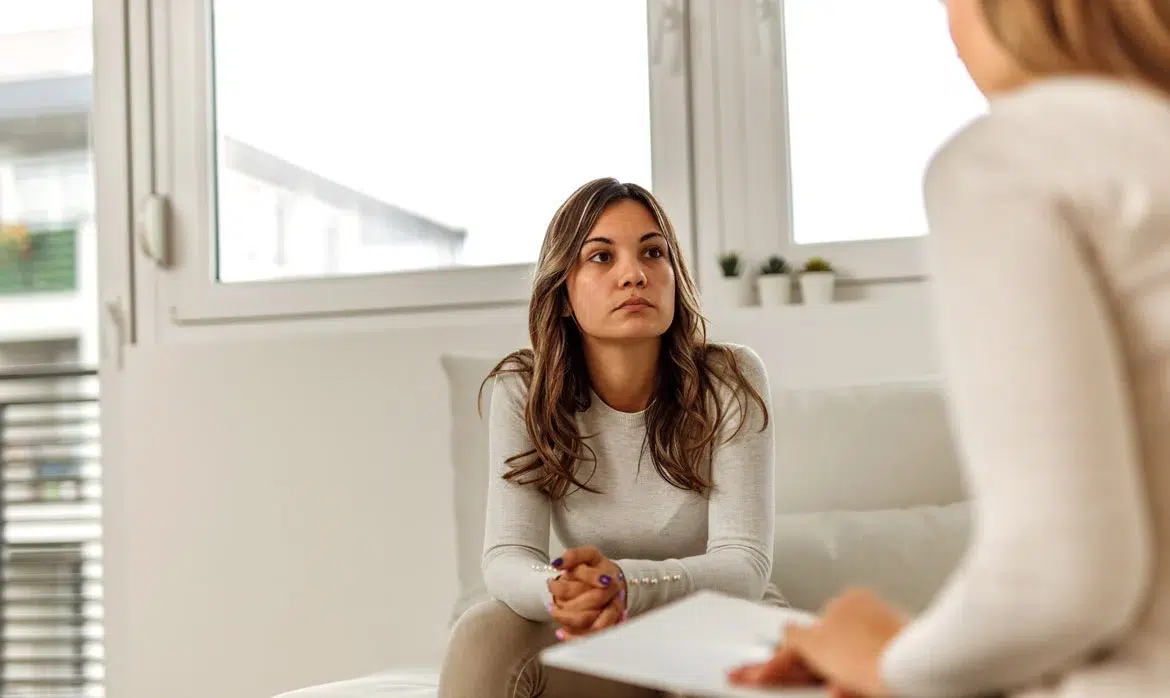 Many clients are confused by the difference between inpatient and residential treatment. While both require you to live inside a facility for a designated period, this is really the only similarity between the two. Residential treatment is meant to be a long-term solution. As a result, it tends to feel more like a home setting than a hospital.
You still get around-the-clock care, but it will not be as intense as short-term inpatient treatment.
Inpatient treatment is a bit different. It is more of a hospital setting with 24/7 monitoring to ensure your safety. This is not designed for long-term stays and most people will only be in an inpatient program for a matter of weeks versus months. The goal for inpatient is to get you stable enough to step down to a lower level of care.
In other words, inpatient anxiety rehab is a bridge between your current mental health and an outpatient provider. We will give you the tools you need to cope with your anxiety disorder in the here and now. Once you have sufficiently learned how to deal with your day-to-day life, you can move from inpatient to partial hospitalization or outpatient therapy.
You should not spend tons of time in inpatient, though we do not want to rush you through the process. If you have been in an inpatient program for a while with minimal results, it might be time to consider whether a longer-term residential program is the better fit for you.
Types of Therapies Received in Inpatient Treatment
Most people picture spending all day in a cozy office with their therapist. However, this is not the only type of treatment utilized in an inpatient program. Instead, you will be exposed to a robust offering of treatment options. Each is designed to teach you how to better cope and can offer various levels of support for you among your mental health professionals and your peers.
Our anxiety treatment center offers the following types of therapy for your healing.
Individual and Group Therapy for Basic Support
No matter what type of anxiety disorder you may have, there are two staple items in any treatment protocol: individual and group therapy. These offer a basic level of support for you with someone trained to help you work through challenging emotions.
In individual therapy, you can work on very specific concerns that are intensely personal. This is great for anything that you do not feel comfortable sharing in a group setting. A therapist will help you to find exercises that calm your anxiety and help you to achieve a better standard of living.
Group therapy offers peer support for your anxiety disorders. While not everyone in the group will have the same diagnosis as you, you can still learn from each other. You will be surrounded by supportive peers that you can talk to and interact with throughout the day at our anxiety treatment center.
You can still learn the same basic skills of cognitive behavioral therapy in a group setting, making it just as effective as individual therapy. However, this enables us to treat more than one person at a time. Not to mention, it gives you the opportunity to learn and grow alongside your peers.
Maintenance and Commitment Therapy
Along with the basics of individual and group therapy, you will spend some time focused on maintenance and commitment therapy. It offers a unique blend of traditional talk therapy and CBT skills to help with challenging thoughts and behaviors.
Oftentimes, this is considered a third-wave treatment that is used in conjunction with the above. That simply means that it is a newer form of therapy, on the cutting edge of what we know about anxiety treatment. Our anxiety treatment center at Emerald Isle is proud to offer this type of therapy to help you master challenging behaviors related to your anxiety.
One of the things that acceptance and commitment therapy teaches us is how to combine concepts from all types of therapy. This allows us to come up with an intervention that is unique to your needs. We use skills from both cognitive behavioral therapy and dialectical behavioral therapy like mindfulness and cognitive diffusion.
This allows you to get the best pieces of all available cutting-edge and proven therapies.
Anxiety Treatment Helpline – Call Now!
Family Therapy
Whether you are dealing with an obsessive-compulsive disorder or something related to another form of anxiety, it does not affect just you. Your family and close friends must all learn to cope with your mental health concerns and your outward behavior. They need to know how they can best support you in your endeavor to heal and cope with anxiety disorders.
This is why Emerald Isle believes in offering regular family therapy at our anxiety treatment center. Everyone in your life can play a role in treating anxiety in your daily life. This gives you the best chance of overcoming anxiety, even once discharged to continue on a less restrictive treatment plan.
Recovery Support Groups
If you are dealing with a co-occurring disorder like substance abuse or a depression association, then you might find real value in recovery support groups. Group therapy tends to be more structured and teaches coping skills. On the other hand, recovery support groups allow you to empathize with your peers.
They allow you to come alongside one another to offer an additional layer of support in addition to that offered by our clinicians. Our treatment team knows that this approach can be extremely beneficial and help you to build your network of support even beyond your discharge from our inpatient treatment.
You might choose to continue pursuing these types of support groups long past the end of your clinical treatment.
Medication Management
There is extensive research to show that medication plays a major role in how you can cope with anxiety. Emerald Isle Health & Recovery is proud to offer this treatment approach to help settle your brain and body from the physical symptoms of anxiety. Our psychiatrists will work closely with you to find a medication suitable for your body type and anxiety.
The benefit of inpatient treatment is that we can monitor you for optimal results. We will have the option to tweak the dosages or the types of medications until we find a winning combination that will work for you. Every client is different, so we want to pay careful attention to just what you need.
Treatment for Co-Occurring Concerns
When it comes to treating anxiety, there are often other issues that require treatment simultaneously. These can include substance abuse, depression, personality disorders, and more. Emerald Isle's treatment team is equipped to handle these struggles using the latest evidence-based treatment models.
We might use exposure therapy or cognitive behavioral therapy to focus on the areas where you are having a hard time. There is an endless pool of resources for every condition that you might encounter, and we are well-versed in many of them.
Don't let social anxiety or any related disorders keep you from living the life you want. Allow our skilled team to treat you as a whole person.
Step Down Services for Aftercare Coordination
Emerald Isle Health & Recovery wants to make sure that we are setting you up for long-term success. We know that inpatient is an important component in your healing. However, there is still more work to be done upon discharge. Our treatment center is proud to offer both inpatient and step-down services that are a bit less restrictive.
From inpatient, you may move to a partial hospitalization program that allows you to head home in the evenings after receiving treatment all day. Many clients move to this level of treatment following inpatient before moving to the less restrictive outpatient services.
If this does not feel like the right fit for you, you can also opt for outpatient treatment. This allows us to devise a custom treatment plan just for you. It might consist of regular individual therapy, some group sessions, and medication management with our psychiatrists. You still receive the same evidence-based treatment that you found in inpatient.
You will be free to come and go from our facility as you please depending on when your appointments are scheduled. At this point, you might be heading back to work or your other responsibilities. This makes it much more likely that you will be able to continue on your treatment plan, even as your schedule becomes progressively busier.
Immediate Placement for Anxiety Treatment
Learn More About Inpatient Treatment for Anxiety Today
At Emerald Isle Health & Recovery, we are serious about treating anxiety in a way that makes sense for you as an individual. We know that there are no handy one-size-fits-all solutions that will miraculously cause your anxiety to fade into the background.
However, we also recognize that there are some real tools available to help you heal and return to your daily life sans anxiety-driven behaviors and thought patterns. If you are serious about kicking anxiety to the curb, you need help from the best mental health professionals around. Our Arizona-based facility is comfortable and able to help you start healing.
Contact us today to learn more about whether our inpatient or partial hospitalization programs are right for you!